Christmas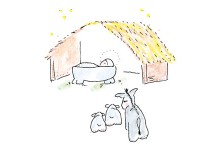 ---
By starlight's twinkle... In haloes' glow...
Christmas... A nourishing touch...
The real star of Bethlehem...
How perfect it fits, God's love for us!
May the simple beauty of Christmas...
MY JESUS: A Little Christmas Miracle
...the angel whispered to the shepherd following the star...
Star for light four-legged friends for warmth...