Who is Chris Shea?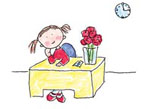 She is Lifesighs. She does all the writing and drawing and considers each product a child. She has 3 real adult children and 6 real grandchildren and she lives in Southern CA with her dog Ben. She's relatable, inspirational and accessible. Don't be surprised when you call... she often picks up the phone.

Why Lifesighs?
Who better to answer this question than the creator of Lifesighs, Chris Shea?
"I began by calling my cards Lifesighs because that's what I think life does. Sigh. Originally I conceived the name Lifesighs for a newspaper column I wrote, but the editor didn't care for the name. He used Chris Shea instead. So I wrote the word on a piece of paper and vowed someday I would use it! I still have the slip of paper under glass on my desk." ~ Chris Shea

Where can I find your products?
You have many options. First we encourage you to seek out a retailer near you. You can find one (we hope) by using the Store Locator here on our site. If you can't find a local retailer in your area, you are welcome to order through us from this site.

Will Lifesighs ship Internationally?
While we would love to ship across the world, we are not able to at this time via our website. If you are an International customer and would like to place an order, please give us a call with your order so we can discuss shipping options, 800.747.6026.

How can I reach you?
You're welcome to contact us by phone at 800.747.6026.

Does Chris do custom work?
We will consider doing custom work if the project inspires our creativity and is a match for our sensibilities. The best way to approach us for custom work is give a call, 800.747.6026.

Why do you name the cards the way you do?
Every card we produce is either person or event driven. Some are self-explanatory, like VENT which thanks a friend for letting you "vent", and others are initials of people in my life, such as friends, family; people who have touched my life. I figure anyone can use numbers, but I like that we know a card merely by a customer mentioning the name. So when someone says to us, "I'd like card number S-NITE," we know it's the card with the pink band aid on it.

Interested in becoming a retailer?
We are so glad to hear you are interested in carrying our line. Please contact us by phone at 800.747.6026 to learn more about becoming a retailer and our wholesale pricing. We love talking to new customers and promise that our process is both simple and straight-forward!

Licensing Inquiries?
If you're interested in licensing Chris's work, please contact her directly at 800.747.6026.


Do you have a print catalog?
If you are an existing or prospective retailer, please call us at 800.747.6026 and we will send you out our catalog along with card samples. Please note, our printed catalog is in black and white.