DUCKY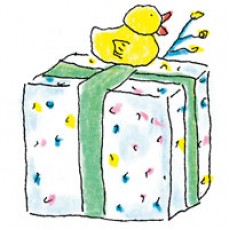 Eight Page Booklet Card - Full Color!
What can I give you?
... When you're about to bring home the moon
and the stars
wrapped in a soft flannel blanket;
when you're already practically
face to face with an angel...
What could I get you that even comes
close to the tiny miracle whose
birth you've long awaited...
A little rubber tub for bath time?
Or a tiny little comb and brush
for hair as soft as down...
Or maybe I could buy a squeaky
yellow rubber ducky.
Oh, if I could give you anything,
anything in the whole wide world,
I'd give you the gift of knowing,
that you're the very best gift
your baby will ever receive...